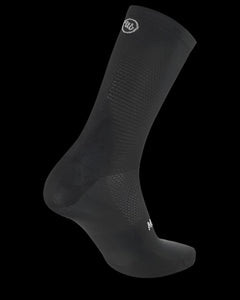 MBwear Pro Sock Black
Regular price 130 kr Sale
MBwear Pro Socks.
MBwears klassiska "orginalstrumpa", vilka används av världskända cyklister världen runt. 96% Polyamide (Q-Skin) 4% Elastan. Höjd: 15cm.
Ord Pris i butik 230:- Valhallpris 130:-
Structured for professionals and ideal for all users who want a product that guarantees great performance and incredible durability. It features padding in the metatarsal area (the area of greatest thrust/pressure) and mesh with breathable channels throughout its construction.
Thanks to the weave used and the degree of tension of the fibres, it also helps circulation, so as to guarantee excellent sensitivity and an aerated, dry foot.